Travel to Addis Ababa
Bole airport is the only international airport in Addis Ababa. Bole airport is located approximately 6km from the town center. A number of international airlines operate to and from Bole Airport. Participants should note that there are no international bus or train services available for participants to use to travel to Addis Ababa.
Most local hotels provide shuttle service to and from Bole International Airport. Please coordinate your airport pick-up with the hotel you are staying at. An ECA bus will also be available to transport participants from the airport to their respective hotels. In order to arrange pick-up with ECA, please e-mail your arrival time to
ccda@uneca.org
.
Taxis: The cost of a taxi from Bole Airport to the city center is approximately $15 US (approx. 300birr). Payment has to be made in the local currency.
Bus/Train: There is no bus or train service from Bole Airport to the city center.
Visa requirements
Visas are required for all participants travelling to Ethiopia, except for nationals of Djibouti and Kenya. This also applies to holders of diplomatic and service passports, as well as United Nations Laissez-Passer. All participants attending the meeting can obtain business visas on arrival at Bole International Airport. In order to assist participants in obtaining visas upon arrival, please provide your nationality and passport details on the registration form. The Ethiopian Immigration Authority requires that participants carry with them and present to Immigration an official Letter of Invitation for the meeting.  An Ethiopian visa costs $20 US or Euro17 per person and payment must be made in US dollars or Euros at the time of issue. Holders of diplomatic and service passports, as well as United Nations Laissez-Passer, will receive visas free of charge.
To be allowed entry into Ethiopia, participant passports should be valid for a minimum of 6 months from the date of entry into Ethiopia. Also, they should have two blank pages in their passport.
Registration
Participants should enter the United Nations Economic Commission for Africa (UNECA) compound using gate number two. Participants must show their passport during registration. Participants are required to register and obtain identification badges prior to the opening of the meeting. There will be a documentation desk at the UN Conference Center, outside conference room two where participants will receive an information package.
Lunch and breaks
Coffee will be served on the ground floor at the UNCC while lunch will be at banquet hall on the first floor of the UNCC.
Important phone numbers
Prefix for Ethiopia (+251)
Fire department: 939 or 0111567004
Police: 991 or 0111572121
UN security: (+251) 115-516537 or (+251)115-512945
UN Health Care Center: 011 5445502 or 011 5443548
UNECA: 251-11-551 7200
Logistics: Thierry H. Amoussougbo
Office: ACPC
Mobile phone: 0911 684197
Health care 
Participants travelling from countries with risk of yellow fever transmission should be in possession of a valid certificate for yellow fever vaccination. The certificate will need to be shown at the airport. The list of these countries is available on the
WHO website
.
As Addis Ababa is situated at an altitude of 2400 meters, it is advisable to take precautionary measures to avoid possible health problems that might occur due to high altitude. The United Nations Health Care Centre (UNHCC), situated on the ground floor of the UN Conference Centre provides 24 hour medical services at a reasonable cost (payment in cash). In case of medical or dental emergency, please call the reception desk at (0115) 44 55 02/44 35 48/44 31 35, or ext. 35502/ 33548/33135 (from within ECA). Participants on special medications should bring enough quantities to last for the duration of their stay as some of them may not be available at UNHCC or in town.
Mobile phone services
The Ethiopian Telecommunication Company offers SIM cards with pre-charged airtime. The cost of a regular SIM card is about $2 while a 3G SIM card costs about $16. Payments have to be made in Ethiopian Birr. Participants will require their passport and two passport photos when purchasing a SIM card.
Participants coming from the United States of America should kindly note that they can only use tri-band mobile handsets i.e. (900/1800/1900 MHZ).
Internet access
Wireless internet will be available in all the locations where meeting sessions will be held. To connect, search for the wifi network with the ID "UNECA Guest WiFi". No password is needed to connect to the network.
Poken
Poken is a technology allows the exchange of online social networking data between two keychain accessories. Each person involved in the exchange must have his or her own poken. The primary information exchanged via the poken is a 'social business card', a digital replacement for a physical business card. By touching two devices together, wait for a green light for a unique ID to be exchanged. This links to contact information on the Poken website. Contact information acquired by use of the poken is uploaded to the poken website by using the built-in USB connector. You can also pickup digital content by touching tags placed on documents, charts, posters, videos etc. The digital content is accessed once the Poken is attached to a computer and a connection is made to the poken website.
Electricity supply
Electricity supply in Ethiopia is 220-240 volts, 50 cycles AC accessible via 13-amp, two pin (Italian) socket. An image of this socket type is included below: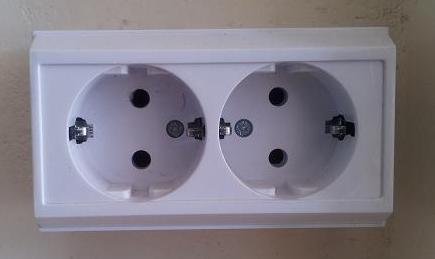 Money
The local currency is the Ethiopian birr (ETB). The exchange rate for one US$  is 18.6 Ethiopian Birr. Credit cards are accepted at very few outlets in Addis Ababa. It is not normally possible to get currency advances against a credit card. Participants should thus bring an adequate supply of hard currency or travellers-cheques. US$ and Euro are easily exchanged and US$ are accepted in most major hotels. Currency exchange for most hard currency can be done at the bank located at the Rotunda in the ECA compound.
Currency restrictions
You must declare to customs officials on entry or exit any cash in excess of $3,000 (or the equivalent in other foreign currencies). Travelers leaving Ethiopia with more than $3,000 must present a bank advice notice if the currency was purchased from a local bank or a valid customs declaration form obtained at the point of entry.
Language
There are over 80 languages in Ehtiopia, but the working language is Amharic. English is widely spoken.
Climate
Addis Ababa has a complex mix of highland climate zones. The high elevation moderates temperatures year-round, and the city's position near the equator means that temperatures are very constant from month to month. 
Although it does not rain often in October, participants are encouraged to bring warm clothing as average temperatures range between 9 and 23 degrees centigrade.