Tuesday, November 15, 2016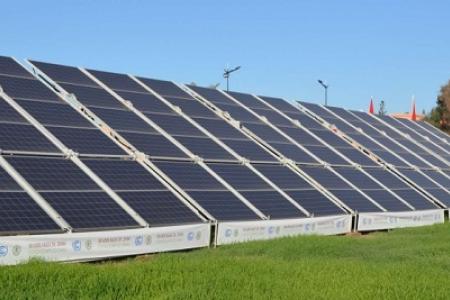 MARRAKECH, Morocco (PAMACC News) - new report released alongside the climate summit in Marrakech Morocco shows that Africa's 'Growth miracle' in the 21st century has reversed a long standing narrative of pessimism about the region, giving experts hopes that the continent can easily industrialise without necessarily using fossil fuels and other forms of dirty energy.
"There are pessimisms, given the complex trade regimes, poor infrastructure, skills mix that is not adjacent to the market needs and poor access to finance, but at the same time, there are opportunities in the great potential of renewable energy sources in Africa, large labour force, appropriate skills mix among others," said Carlos Lopez, Commissioner, Global Commission on the Economy and Climate.
However, for the green economy to work, said Lopez, there must be industry policies that cut across all the sectors, there must be enough ambition, and there must be sophistication to give countries the potential to do it sustainably.
H. E Rhoda Peace Tumisiime referred to Noor 1, Morocco's solar power plant at the town of Ouarzazate, which now provides 160 megawatts (MW) of the ultimate 580MW capacity, helping the country to save hundreds of thousands of tonnes of carbon emissions per year.
"This beautiful solar project is evidence of the determination of African leaders' commitment to development using green energy," said Tumisiime, the Commissioner for Rural Economy and Agriculture at the African Union Commission (AUC).
Many other countries have similar potentials not only in solar, but also in the geothermal and hydroelectric sectors. Kenya's Rift Valley region for example, has a potential of producing 10,000 megawatts of geothermal energy, with the country tapping only 10 percent of it.
"There are many opportunities for Africa," said Lopez at the launch of the report spearheaded by Pan African Institutions which include the African Union, the African Development Bank, and the United Nations Economic Commission for Africa.
The report, titled 'Africa's New Climate Economy,' and launched on the sidelines of the ongoing United Nations Framework Convention on Climate Change (UNFCCC) 22nd Conference of Parties (COP 22) is the first to bring economic transformation together with development and climate change in one comprehensive assessment.
"The choices that African leaders make in the next few years will have major implications for economic growth, human well-being and climate resilience in the decades ahead," said Ngozi Okonjo-Iweala, former finance minister of Nigeria and a member of the Global Commission on the Economy and Climate. "It's encouraging to see these three priorities brought together."
The report points out that some 620 million people in sub-Saharan Africa lack access to electricity. But according to experts, countries have an opportunity to "leapfrog" to modern, energy efficient technologies, since the region has a rich portfolio of clean energy assets, including about 1,100 gigawatts of solar capacity, more than enough to meet total energy demand in the region.
"Across multiple sectors, economic, social and environmental transformations can reinforce each other and create numerous virtuous circles," said Milan Brahmbhatt, lead author of the report. "Many of the policy and institutional reforms needed to boost growth and reduce poverty over the next 15 years will also contribute to better management of climate risk."