Sunday, November 13, 2016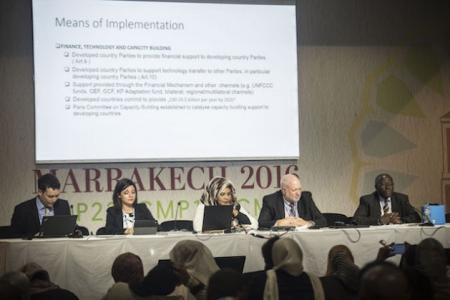 MARRAKECH, Nov 13 2016 (IPS) - The Paris Agreement hammered out at the summit on climate change in the French capital last year committed all parties to low-carbon and climate-resilient economies. The big question at the follow-up meeting here in Marrakech is how that deal will be implemented, especially for the developing nations of Africa.
"We have three major objectives at this COP: [the first is] to set a foundation for a strong technical and legal framework of the Paris Agreement," said Seni Nafo, chair of the African Group of Negotiators (AGN).
"The second key issue is to push for accelerating action after the entry into force of the Paris Agreement and lastly but not the least, ensuring finance for Africa's adaptation."
Dubbed the 'COP of Implementation,' the summit dubbed COP 22 is seen by the African group as an opportunity to refine some of Paris's unfinished business.
Despite adoption last year, a number of key decisions in the PA such as modalities for achieving the 2 degree C. threshold, mechanisms to enforce compliance and achieving a balance between mitigation and adaptation, among others, were deferred to COP 22.
One key issue for Africa is removal of bottlenecks to accessing climate funds. Available statistics from the African Development Bank (AfDB) show that Africa, currently the most exposed region, has only been able to access less than four percent of global climate financing—the reason being lack of bankable projects on the continent.
With the deal based on Nationally Determined Contributions, it is feared the challenge of access to climate finance for Africa might get further complicated as it has been discovered that most countries' NDCs are vague, according to the African Climate Policy Centre (ACPC) of the United Nations Economic Commission for Africa (UNECA).
"ACPC is ready to support African countries in the revision of their Nationally Determined Contributions, most of which have been found to be defective," James Murombedzi, Officer in Charge at ACPC told IPS, adding that his organisation wants to see an inclusive implementation of the PA.
Murombedzi said this would, however, not be possible if COP 22 does not lay a strong foundation.
The talk over the years has been capacity building to achieve the required levels of preparing bankable proposals in most African countries. Nevertheless, experts have urged caution even as the continent pushes for this need.
According to Balgis Osman Elasha, Principal Climate Change officer at the African Development Bank, Africa should avoid the 'Clean Development Mechanism (CDM) trap' by perpetually pushing capacity building and miss out on serious climate funding opportunities.
Elasha says "Africa could not benefit from the CDM because it was caught up in the capacity building mode while others were taking action."
CDM of the Kyoto Protocol provided for emissions reduction projects aimed at assisting parties not included in Annex I in achieving sustainable development and compliance with their quantified emission limitation and reduction commitments.
As highlighted, a balance between adaptation and mitigation features prominently in the negotiations. And for African economies, adaptation is not a question of the future but now.
Available data shows that most countries are already facing economic challenges which are likely to be worsened by climate change effects. For example, cereal production is expected to decrease by up to 49 percent in Africa by 2050 due to the impacts of climate change, exacerbating food insecurity.
And Zambia's Minister of Water Development, Sanitation and Environmental Protection, Lloyd Mulenga Kaziya underscored the need for urgent action especially the improvement of hydromet services.
"Zambia is deeply affected. In the past five years, our rivers have been drying up while the frequency of droughts has increased affecting our smallholder farmers in terms of production, and to make matters worse, information flow to the affected communities is not readily available," said Kaziya, adding that the southern African country requires urgent support to upgrade hydromet systems and integrate them in all key sectors such as Mining, Energy and Agriculture
With these critical needs identified, the AGN is determined to ensure that Africa's voice is heard at the negotiating table — especially now as the rules and modalities for implementation are being discussed.
"In line with our major objective of ensuring finance for adaptation, one key priority is to keep adaptation at par with mitigation," said Nafo of the AGN, adding that adaptation for Africa is not an option but a must.
But on its part, the continent is not seating idle. At COP 21, the Africa Renewable Initiative (AREI) was launched to pave the way for Africa's transition to inclusive green growth. AREI already has resulted in significant financial commitment of over 10 billion dollars for renewable energy projects in Africa, according to the African Development Bank, one of the partners of the initiative.
The tone for Africa's demands at this year's COP was clear on day one of the event as Salahedinne Mezouar, the COP 22 President, said: "Paris gave us a global commitment to climate change and COP22 in Marrakech will give us more ambitious climate action. We must all rise to the challenge in support of the most vulnerable countries in the fight against climate change," underscored Mezouar, implicitly referring to Africa—the most exposed region whose contribution to global carbon emissions is just about 5 percent.
As negotiations enter the second week, the African group remains optimistic that most outstanding issues, especially means of implementation, would be resolved for smooth implementation of the Paris Agreement.