Wednesday, December 9, 2015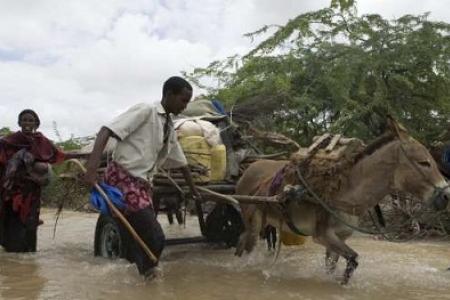 Paris, France December 8, 2015 (ClimDev-Africa) - The Executive Secretary of the Economic Commission for Africa, Mr. Carlos Lópes, today warned that the risks of African countries being blindsided at the current Paris climate talks are high, especially with regards to the implementation of the so-called Intended Nationally Determined Contributions (INDCs).
Mr Lopes was addressing a cross section of African delegations to the talks which have somehow stalled on the main issues of African concern such as a balanced implementation of adaptation and mitigation; financing of the INDCs for which 53 of the 54 African countries submitted their contributions in time for the Paris conference, etc.
He said that this showed Africa's readiness and added that since negotiations have entered their political phase, Africa must do everything so that "the continent is not short-changed  in  the way its interest are reflected in the final agreement.
In this context, the planned contributions determined at the national level may be the Africa's best outcome from these negotiations, he said.
Earlier on in the day, the French foreign minister Mr. Laurent Fabius had in a surprise move urged African countries to move faster in negotiations, and to be more active. An African negotiator said they would take the time they need to ensure that the final agreement reflects Africa's concerns, as much as possible.
According to Mr. Tosi Mpanu Mpanu, senior negotiator of the DRC member of the Board of Directors of the Green climate Fund, Africans are moving very slowly in COP 21 negotiations.
"As the African Group, there are things against which we are intractable, such as the differentiation between parties, a condition we think must prevail. We cannot say, today, that we must all undertake the same level of effort in emission reductions. This is not possible.
On the question of financing, Mr. Mpanu Mpanu, said that Africa has tabled several funding proposals and, it wants to ensure that this issue remains on the table. But he also called for ambitious amounts, with substantial sums being reserved for adaptation, because the stakes are high.
He further explained that it would be necessary to have provisions of an agreement that would enable Africa to take greater account of its adjustment problems, and to see to what extent it can improve the planning, in order to make its development more resilient.
About adaptation, the negotiator considers that Africa would like all parties to arrive at a common understanding. Some countries argue that it is a specific issue that you can't manage globally, while Africa says no!
"We believe that there is an overall objective of limiting global temperatures and there is an overall objective on mitigation, and this overall objective on mitigation is linked to a global goal on financing, then there must be an overall objective on adaptation", he argues.
On the question of the loss and damage, Mr. Mpanu Mpanu, underscore the sensitive nature of the issue. Some countries want to be assured that the agreement leaves no route open to legal prosecution at the international level. It is imperative that we reach a common understanding of how this mechanism should be put in operation such that it can take into account the needs of all tghe parties, explained.
Still on loss and damage, Mr. Adessou Kossivi, the regional coordinator for West African network of civil society organizations on disaster reduction, says that issues of loss and damage have been made to follow an extraordinarily long process, so much so that one has the impression that a developed country such as the Norway, would like to have the issue simply deleted from the text.
"Today it has either taken second place or simply submerged into adaptation issues. Yet, issues of loss and damage are quite significant in so far as some countries bear very extreme impacts of climate change", he said.
Published by the communication service of the UNECA