Next week, the 2015 UN Conference of Parties, COP 21/CMP 11 will be held in Paris, France. This COP aims to be a monumental conference as its main objective is to attain a legally binding and universal agreement on climate, from all the 195 nations that make up the UNFCC.  This would be a breakthrough step towards the right direction not just for developed countries, but for developing countries as well. One of the main issues for climate opportunities has been the challenge of climate finance, but this sort of move will help meet the commitments as well as promote and track compliance from all countries.
What do we know so far?
A recent study by OECD/CPI estimated that climate finance mobilized by developed countries for developing countries reached $62 billion in 2014 and $52 billion in 2013, with the bulk of the funds going towards mitigation which is 77 %, adaptation 16 %, and 7 % for activities that target both. The newest player, the Green Climate Fund (GCF) last week approved $168 million for eight projects out of the $10.3 billion in pledges. Africa is set to receive around $45 million for projects in Senegal, Malawi and a regional one for Eastern Africa. Developing countries are also coming into play, for instance more than 11 % of the total financial flow represented south-south in 2013, and recently the Asian Development Bank (ADB) as well as the African Development Bank (AfDB) announced their plans to increase their annual climate financing to $6 and $5 billion respectfully by 2020.
What does this all mean for Africa and its people?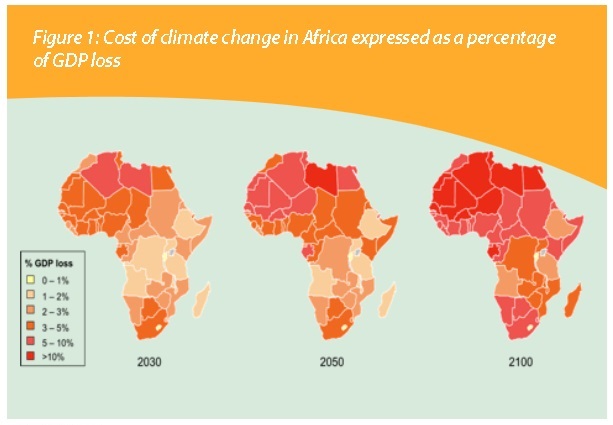 The economical and social costs associated with climate change impacts are expected to hit Africa the hardest, with certain sectors being greatly affected. Agriculture production is projected to fall 20% by 2070 as a result of poor rains and increase in temperatures. For a continent with 75 per cent of its population dependent on this sector, the impacts will be dire.
Consequently, African countries will require significant resources, but analyses of various studies provide a rather wide range of estimates for climate finance needs and costs on the continent adding to the problem. For example the AfDB concludes that adaptation costs in Africa will be in a range of $20-30 billion over the next 10 to 20 years, while a UNEP report on Africa's adaptation estimate the cost at $50 billon per year by 2050 in a below 2°C world.
From past experience, existing financial mechanism and pledges have fallen short in-term of fund delivery and transparency. Therefore, given the uncertainty and continuous rise of climate finance, the path for Africa's ultimate climate financial stability will be the mobilization of domestic resources in tandem with international financing.  Not only will this put Africa in a better position to combat the negative impacts of climate change and take advantage of the opportunities, but also demonstrate to the world that Africa is ready to take ownership.
How can we mobilize domestic resources?
Africans must first self mobilize to resource mobilize and tap into its greatest untapped assets on the continent, WOMEN & YOUTH.  The African population is estimated to be more than a billion people of whom over 60 % are young men and women under the age 35, which can be used as a huge human resource dividend that provides great opportunity for innovative transformational change and an energetic productive workforce.  A UNEP report has recognized that Africa has the potential to raise $3 billion per year of its own funds. Hence, African nations by mapping out climate solutions that are aligned with their own development agendas that enhance access to youth and women, will better position themselves to meet their climate financial needs.
Bruk Tekie is an energy, low carbon development and climate change consultant with the African Climate Policy Centre (ACPC), Special Initiative Division of the UN Economic Commission for Africa (UNECA)
E-mail – btekie@uneca.org
Opinions expressed in the ACPC Climate Diaries are the authors' personal views and do not represent the view of ACPC. ACPC accepts no liability for use of or reliance on information found on the Climate Diaries.